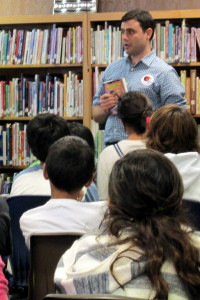 An agent friend of mine has the perfect term for a certain kind of novel.  Loosely defined, the "eat-your-vegetables-book" is a textbook disguised as fiction: the kind so overloaded with lessons or facts that no kid would choose to read it on their own.
I didn't set out to write this kind of novel and strongly feel I haven't.  Sure, I hoped – and still do – that the Samantha Sutton series can give readers an introduction to archaeology as a discipline, and the specific sites where Samantha gets to work.  But more than anything, I wanted to write something that would be fun to read.   To ruin a perfectly good metaphor, I was aiming for pizza, not vegetables, where finicky readers could pick around the mushrooms.
So it's been a fun surprise to hear from teachers around the country who have started using Labyrinth of Lies in their classrooms.   Because of the themes it covers – critical thinking, the nature of scientific inquiry, the examination of cultures across time – it fits easily into established curriculum objectives, as well as the Common Core Standards now being adopted nationwide.  With the help of a friend who teaches fifth grade, I'm developing a Curriculum Guide for interested teachers.  This document will highlight the relevant Common Core Standards, provide discussion questions, and suggest classroom activities.
In the meantime, educators interested in using "Labyrinth" in the classroom may find the following on-line resources helpful:
• Archaeological Institute of America
• Society for American Archaeology
Terrific places to start.  Each site provides succinct summaries of what archaeology is, the general methods it employs, and the ethical and practical challenges that archaeologists face.  Full-fledged lesson plans included as well!
• Social Media Knowledge Exchange – Archaeology Animated Shorts
A project out of Cambridge University, using social media and short videos to explain advanced archaeological theories and concepts to young people.
• Stanford University – Chavín Project
• Global Heritage Fund – Chavín Page
Detailed information on the archaeology of Chavin de Huantar, Peru – where Labyrinth of Lies is set. Created and maintained by the real-life archaeologists who work there and the non-profits and organizations dedicated to keeping it safe.